Hampton Roads NROTC Unit Staff
Department Links
The Hampton Roads Naval Reserve Officer Training Corps is one of the largest officer training battalions in the nation consisting of over 170 Sailors, Marines, and Midshipmen. It is comprised of a three school consortium that include:
Old Dominion University, Norfolk State University, and Hampton University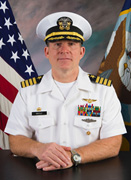 Captain Michael C. Bratley
Commanding Officer
NROTC Unit: Hampton Roads Captain Michael C. Bratley
Mike "Dan-O" Bratley was 'transplanted' from Moosup, Connecticut to Kennewick, Washington upon his father's retirement from the Navy (a retired Submarine qualified Master Chief). Following his father's lead he enlisted on September 3rd, 1985 as an Electronics Technician and volunteered for Submarine duty. While enlisted he served in the USS Florida (SSBN-728), at Trident Training Facility (TTF) and Deep Submergence Unit (DSU) eventually obtaining the rank of ET1(SS). Upon graduating from the University of Idaho in December of 1995 he was commissioned via the Enlisted Commissioning Program, went on to earn his Naval Aviator wings in 1999, and has flown more than 3,000 hours in 6 different aircraft and completed over 400 arrested landings on 8 aircraft carriers.
Sea tours as a commissioned officer include Command of Fleet Logistics and Support Squadron 40 (VRC-40) in Norfolk, Virginia, Air Boss onboard USS George Washington (CVN-73) and Squadron tours in Carrier Airborne Early Warning Squadron 126 (VAW-126), and Fleet Logistics and Support Squadron 40 (VRC-40). Deployments include VRC-40 Detachment 4 OIC supporting the USS Enterprise (CVN65), the maiden (and second) cruise of the USS Harry S Truman (CVN-75) supporting Operation Southern Watch and Operation Iraqi Freedom.
Ashore, Captain Bratley commanded U.S. Navy Support Facility Diego Garcia, and served as a Fleet Replacement Instructor at VAW-120 for all variants of the E-2 Hawkeye, and as Engagement Division Executive Officer, Lesson Learned Analyst at Joint Forces Command (later Joint Staff J7) Joint and Coalition Operational Analysis Center. He is currently serving as the Commanding Officer of NROTC Hampton Roads Consortium.
Captain Bratley earned dual Bachelor of Science degrees in Naval Science and Psychology from the University of Idaho, as well as an MS in Management and M.B.A. from the University of Maryland.
Individual awards include the Legion of Merit, Defense Meritorious Service Medal, Meritorious Service Medal (2 awards), Air Medal, Navy and Marine Corps Commendation Medal (4 awards), Navy and Marine Corps Achievement Medal (2 awards) and numerous campaign and unit awards.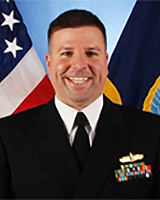 Commander
John P. Drosinos
NROTC Unit: Hampton Roads Commander John P. Drosinos
Commander (CDR) John Peter Drosinos is a native of Baltimore, Maryland. He is a 1999 graduate of The United States Naval Academy with a Bachelor of Science degree in Economics.
Upon commissioning, he served aboard USS HAWES (FFG-53) as the Combat Information Center Officer, Intelligence Officer, and Ordnance Officer. During his three years on USS HAWES, the ship participated in OPERATION DETERMINE RESPONSE in support of the USS COLE bombing.
Following his Division Officer tours, CDR Drosinos was selected for the Leadership Education and Development Program (LEAD) at the United States Naval Academy, earning a Master of Science Degree in Leadership and Human Resource Development through the Naval Postgraduate School. While assigned the Naval Academy, he served as the 1st Company Officer and was a leadership instructor in the Department of Leadership, Ethics, and Law.
As a Department Head, he served as the Operations Officer on USS NICHOLAS (FFG-47). During this tour, the ship deployed to the Baltic Sea, Eastern Atlantic, and the Mediterranean Sea providing maritime support operations. While aboard NICHOLAS, he was awarded the 2007 Navy and Marine Association Leadership Award. Following this tour, he transferred to Destroyer Squadron Two and served at the Staff Operations Officer. While assigned to Destroyer Squadron Two, he was awarded the 2009 Strike Group Twelve Junior Officer Award for Excellence in Tactics and was a Naval Surface Force Award for Excellence in Tactics finalist.
In 2013, he was assigned as the Executive Officer on USS ANZIO. During his tour, the ship deployed in support of JOINT WARRIOR and assisted in emergency response efforts in Eastport, Maine during Hurricane Arthur. For his post Executive Officer at sea tour he was assigned to USS KEARSARGE (LHD-3) as the Operations Officer. Amidst heightened tensions, he deployed to FIFTH Fleet supporting combat operations FREEDOM'S SENTINEL, WHITE MOUNTAIN, INHERENT RESOLVE.
Additional shore tours include Commander Surface Forces Atlantic Requirements Analyst and Director of Training at Commander Afloat Training Group Atlantic. He has also served an Individual Augmentation tour in support of Commander Sixth Fleet Ballistic Missile Defense.
Commander Drosinos is currently the Executive Officer of the Naval ROTC Hampton Roads Consortium.
CDR Drosinos' personal awards include the Meritorious Service Medal (3), Navy-Marine Corps Commendation Medal (4), Navy-Marine Corps Achievement Medal, as well as other various service and campaign awards.
Colin Bredl, Assistant Professor of Naval Science
Christina Lanier, Assistant Professor of Naval Science
Hugh List, Marine Officer Instructor
Edgar Gonzalez, Assistant Marine Officer Instructor
Joshua Albert, Assistant Marine Officer Instructor