Department of Computer Science Faculty & Staff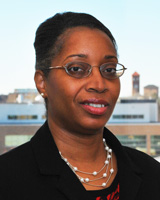 Ms. Angela Burch Roulhac
Instructor

, Computer Science
Location:
Science and Technology
120
Phone:
757-727-5558
E-mail:
angela.roulhac@hamptonu.edu
Expertise:
Microsoft Excel, Microsoft Word, Microsoft PowerPoint, Basic Computer Concepts and Security Issues
Mrs. Roulhac received a B.S. degree in Political Science and in August 1994 and an M.A.T. in Secondary Education in May 1990. Both degrees were from the University of Louisville, Louisville, KY. Mrs. Roulhac worked for HU for a number of years prior to joining the Computer Science department in 2004.
Mrs. Angela Roulhac is currently employed at Hampton University as Coordinator of Computer Literacy for Hampton University. Mrs. Roulhac ensures that students required to take the computer literacy course fulfill the requirement by providing alternative methods for completing the course. She manages 18 to 20 sections of CSC 120 each semester and performs duties that ensure the availability of resources and staff to accommodate the students enrolled in the course.
Mrs. Roulhac's specific duties include the hiring, coaching, training, and mentoring of instructors, determining equipment and data needs and communicating the need with the department Chair and IT staff. In planning the curriculum, Mrs. Roulhac conducts meetings with computer literacy staff to research, develop, and disseminate course materials, devises ways to enhance the program to meet the needs of students and departments, establishes course policy and procedures and enforces said policies as well as departmental and university policies. She is responsible for managing the test out course by, proctoring, and grading the exit exam.
In addition to teaching 3 regular sections of the CSC 120 course, Mrs. Roulhac is responsible for answering general questions about the course and handling student issues. She performs these and other duties as needed. Her research interest includes software applications, basic computer literacy, and computer security education.