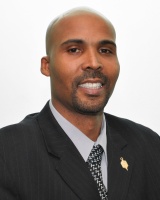 Mr. Michael D. Druitt
Assistant Professor, MSc

, Biological Sciences
Location:
Dupont Hall
110
Phone:
757-727-6757
E-mail:
michael.druitt@hamptonu.edu
Expertise:
Biological Sciences / Neuroscience / Pre-Health Careers
Mr. Michael D. Druitt earned the M.S. in Biological Sciences from Hampton University investigating the Effects of Lead Neurotoxicity in Rana Catesbeiana. He previously was awarded a B.S. degree in Biology from Longwood (College) University (Farmville, VA.).
Mr. Druitt has served as Visiting Scholar at the University of Virginia School of Medicine and School of Public Health to help educate students about health disparities awareness and to increase student diversity and enrollment in the health professions.
Mr. Druitt is the founder of the annual Pre-Health White Coat Induction Ceremony. Mr. Druitt has also served as Medical Science / Pre-Health Coordinator, Assistant to the Dean and Acting Dean in the School of Science.
Mr. Druitt is a member of the Beta Kappa Chi Scientific Honors Society and has been featured in Diverse Issues in Higher Education for his service in helping students achieve success.